Plants, insects and organisms crucial to food production in steep decline, says UN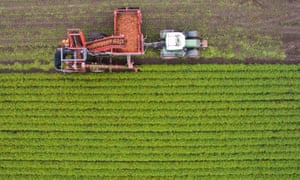 Organic carrot harvest in Germany. Organic agriculture makes up just 1% of global farmland. Photograph: Julian Stratenschulte/EPA
World's food supply under 'severe threat' from loss of biodiversity
The world's capacity to produce food is being undermined by humanity's failure to protect biodiversity, according to the first UN study of the plants, animals and micro-organisms that help to put meals on our plates.
The stark warning was issued by the Food and Agriculture Organisation after scientists found evidence the natural support systems that underpin the human diet are deteriorating around the world as farms, cities and factories gobble up land and pump out chemicals.
Over the last two decades, approximately 20% of the earth's vegetated surface has become less productive, said the report, launched on Friday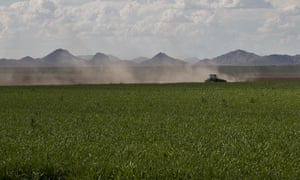 Although the world is producing more food than in the past, it is relying on ever-expanding monocultures. Photograph: ZUMA/REX/Shutterstock
It noted a "debilitating" loss of soil biodiversity, forests, grasslands, coral reefs, mangroves, seagrass beds and genetic diversity in crop and livestock species. In the oceans, a third of fishing areas are being overharvested.
Many species that are indirectly involved in food production, such as birds that eat crop pests and mangrove trees that help to purify water, are less abundant than in the past, noted the study, which collated global data, academic papers and reports by the governments of 91 countries.
GLOBAL FOOD CRISIS
LEARN MORE
Follow Me By Email
Did you enjoy this post? Sign up for my daily digest to get the TOP daily posts, articles, reports and studies, like this Monday to Friday.
Disclaimer:
The facts and opinions expressed within this article are the personal opinions of the author. Dr.Peter G Kinesa's Digest does not assume any responsibility or liability for the accuracy, completeness, suitability, or validity of any information in this article or video.