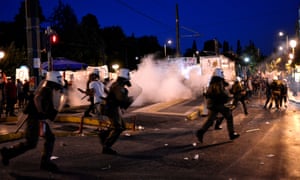 Alexis Tsipras drives through tax increases and pensions shakeup amid angry splits in his Syriza party
Five years into the worst crisis to hit their country in decades, Greek MPs voted by a large majority in the early hours of Thursday morning to accept draconian austerity as the price of further bailout funds but at great personal cost to prime minister Alexis Tsipras.
In a vote that saw tensions soar in and outside parliament, the embattled leader's radical leftist Syriza party suffered huge losses as 40 MPs revolted against the measures. A total of 229 lawmakers voted in favour of the internationally mandated measures, 64 against and six abstained.
Iranians poured onto the streets of capital Tehran after the Ramadan fast ended at sundown on Tuesday.
Iranians poured onto the streets of the capital Tehran, after the Ramadan fast ended at sundown on Tuesday to celebrate the
historic nuclear deal agreed
with world powers in Vienna.
Supporters of President Hassan Rouhani and his top negotiator, Foreign Minister Javad Zarif, waved Iranian flags from their cars, while drivers honked their car horns.
At least three thousand people also gathered along Valiasr Street near the Tajrish district of northern Tehran, singing celebratory songs while dancing and flashing victory signs.
With the signing of the agreement, people who attended the celebration said they are hopeful that the country's economy and the lives of ordinary citizens would improve.
Once sanctions are lifted in the coming months, Tehran will gain access to $100-bn in frozen assets, while opening the
country for trade.
On Wednesday, Rouhani hailed the agreement as a political victory for his country, saying the agreement meant that Iran would no longer be regarded as an international threat.
The jet stream used to act as a barrier, keeping cold air in the Arctic and keeping temperate air in the temperate zone. As the jet stream fractures, more extreme weather - including more intense heatwaves - can be expected.
The fourth consecutive drop reflects the impact of higher joblessness, accelerating inflation and near record-low consumer confidence in Latin America's largest economy. The slowdown in families' spending, which has been the motor of economic growth for the last decade, has been exacerbated by policy makers raising borrowing costs to damp price increases.
"It's an affront," says Georgios Daremas, a strategist and adviser to the Greek Ministry of Labor, Social Security and Social Solidarity. "It's basically saying sell the memory of your ancestors, sell your history just so we can get something commercial for it," he tells TIME on Monday. "This is an idea to humiliate Greeks."
For 160,000 residents and businesses on the island, water is turned off for 48 hours and then back on for 24 hours, sending people into a frenzy of water collection. Another 185,000 are going without water in 24-hour cycles, and 10,000 are on a 12-hour rationing plan.