"We children are doing this to wake the adults up. We children are doing this for you to put your differences aside and start acting as you would in a crisis. We children are doing this because we want our hopes and dreams back"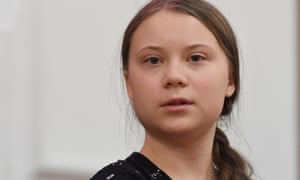 My name is Greta Thunberg. I am 16 years old. I come from Sweden. And I speak on behalf of future generations.
I know many of you don't want to listen to us – you say we are just children. But we're only repeating the message of the united climate science.
Many of you appear concerned that we are wasting valuable lesson time, but I assure you we will go back to school the moment you start listening to science and give us a future. Is that really too much to ask?
In the year 2030 I will be 26 years old. My little sister Beata will be 23. Just like many of your own children or grandchildren. That is a great age, we have been told. When you have all of your life ahead of you. But I am not so sure it will be that great for us.
I was fortunate to be born in a time and place where everyone told us to dream big; I could become whatever I wanted to. I could live wherever I wanted to. People like me had everything we needed and more. Things our grandparents could not even dream of. We had everything we could ever wish for and yet now we may have nothing.
Now we probably don't even have a future any more...
WE ARE RUNNING OUT OF TIME