Almost overnight we have transitioned from drought to a flood disaster zone. There are kangaroos dead in trees, birds drowned in drifts of silt and our beloved bovine family perished in huddled piles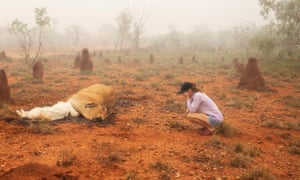 Cattle killed by flood waters in Queensland, Australia in February 2019. Photo by Jacqueline Curley. Handout to Guardian Australia. Photograph: Jacqueline Curley
After what can only be described as an environmental massacre of mammoth proportions throughout the whole of north-west Queensland, the people of this country are heartbroken.
We live on a family cattle station 60km north of Cloncurry, where we have just received 700mm-plus of rain over seven days, with the majority of that falling over four days. This extreme weather event, equivalent to an inland cyclone, has decimated much of our native wildlife, along with our domestic livestock. They were constantly exposed to wind and cold driving rain for far too long. The majority of the country was either covered in flood water or churned into a bog, making their feed inaccessible.
The cattle became weak, using what energy they had struggling through the mud and pushed by the driving rain. After withstanding these harsh conditions for days on end their energy was depleted and they finally became exhausted simply trying to stay warm and died.
Graziers around the district are working tirelessly to save what they can and also to humanely euthanise those animals that sadly are beyond saving. My son has been flying over and shooting his beloved cattle for several days, which is absolutely gutting – he has grown up with them, their parents, their grandparents and great-grandparents. Helicopters are being used to distribute what fodder we have available to the survivors and right now this is our only form of transportation. The majority of the region is still inaccessible to vehicles and will be for some time.
LEARN MORE
500,000 Cattle Die From Climate Change
Follow Me By Email
Did you enjoy this post? Sign up for my daily digest to get the TOP daily posts, articles, reports and studies, like this Monday to Friday.
Disclaimer:
The facts and opinions expressed within this article are the personal opinions of the author. Dr.Peter G Kinesa's Digest does not assume any responsibility or liability for the accuracy, completeness, suitability, or validity of any information in this article or video.