Southern Europe risks Zika outbreaks this summer
Established Aedes-mosquito population could spread the Zika virus in Europe this summer if infected travelers introduce the virus. An analysis of temperatures, vectorial capacity, basic reproductive number (R0), and air traveler flows suggests parts of Southern Europe may be at risk for Zika outbreaks between June and August. This according to a study, led by Umeå University researchers in Sweden and published in the journal EBioMedicine.
"We know warm climates create the kind of conditions suitable for mosquito-borne illnesses to spread," says Joacim Rocklöv, researcher at Umeå University's Unit for Epidemiology and Global Health and co-author of the article.
"Vectorial capacity depends on a number of parameters but in general, warmer temperatures increase the rate in which the female mosquitos bite, the mosquito virus reproduction, and their virus transmission risk. The presence of established Aedes mosquito populations, the warmer climate and the coinciding peak flow of air travelers into Europe, is a triage making Southern Europe fertile ground for Zika."
Exxon Shareholders Rejected Climate Change Proposals
Investors were hoping to force Exxon to add a climate expert to its board, to enact a policy to avoid 2°C warming, to increase capital distributions, and to report on the impact climate change policies worldwide to the company's bottom line.
China to send nuclear-armed submarines into Pacific
To help penetrate US missile defences, China has started putting multiple warheads on its largest missile, the DF-5, that has set alarm bells ringing in the Pentagon, where some analysts view it as the first step towards a massive nuclear armament drive aimed at obliterating the US arsenal.
What's behind Beijing's drive to control the South China Sea?
China's startling attempt to assert control over vast waters has alarmed nearby countries and escalated tensions with the US. Howard W French reports from Hainan, the island at the heart of Xi Jinping's expansionist ambitions
Pity Poor China: There's No Easy Fix to the S-Curve
This decline is inevitable in fast-expanding economies that depended on export growth and investment booms.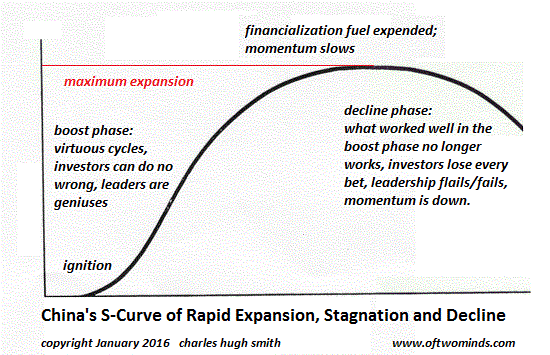 The S-Curve can be likened to a rocket's trajectory: first, there's an ignition phase, as the fuel of financialization, cheap labor and untapped productive capacity is ignited.
The boost phase lasts as long as credit-fueled production and consumption expand rapidly.
In the boost phase, investors and financial authorities can do no wrong. The high growth rate of credit and production overwhelms all other factors, as the virtuous cycle of expanding profits and production increases wages which then support further expansion of credit and consumption which then supports more production, and so on.
A vast tide of foreign investment fuels an equally vast expansion of fixed capital assets such as factories and new homes. (The chart below depicts the astronomical amounts of new square footage constructed in China every year.)