Exclusive authorised premier release
By Craig Dilworth
The work of the systems-ecologist Howard Odum presages the vicious circle principle (VCP) presented in
Too Smart for Our Own Good(2009).
[*]
As presented in
Too Smart
, the VCP is as follows:
Humankind's development consists in an accelerating movement from situations of scarcity/need, to technological innovation, to increased resource availability, to increased consumption, to population growth, to resource depletion, to scarcity once again, and so on. (p. 110)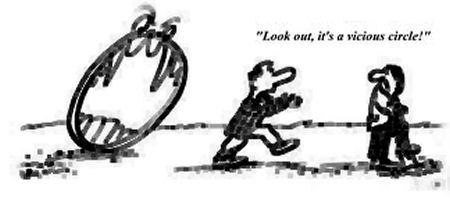 Applying Odum's thinking to the VCP's interpretation of changes in the actual development/evol­ution of humankind suggests that with each technological revolution there has resulted an increase in the usable energy available to our species, which has in turn resulted in population growth and a subsequent demand for increasing quantities of energy. On the VCP this demand has to date generally been met (particularly since the industrial revolution and the near-exponential increase in our burning of fossil fuels), with the result that the vicious circle of humankind's development has grown in both size and environmental impact.
A second point of contact between Odum and the VCP – related to the first – is Odum's emphasis on system-development's involving pulses. He applies this notion to both living and non-living systems. Among the living are ecosystems, individual human civilizations, and human civilization as a whole. In Too Smart pulsing is emphasized with regard to the human species as a whole, each turn of the circle constituting a pulse.
The pulses of the populations of non-human species tend to fluctuate about a mean (cf.
Too Smart
, pp. 21–22), in the case of K-selected species their growth or shrinking depending on both internal and external population checks. But, according to the VCP, in the case of the total human population these pulses have taken the form of the constantly increasing growth of the human enterprize. In each instance of humankind's developing technology, which has taken us through the javelin, bow-and-arrow, hoe, plow, coal, and oil and natural gas phases, the problems (scarcities) have as a matter of fact in each case led to
a of technological development capable of harnessing ever-greateramounts of energy from the environment
, and a consequent weakening of human population checks and a growth in the human population. Here we might also note, in keeping with Tainter, that part of the vicious circle consists in the diminishing returns that eventually hit any new technology, leading to the need for its replacement.