" we are trapped in an age of impunity that is placing civilians, as well as humanitarians, in the crossfire, and driving thousands from their homes every day."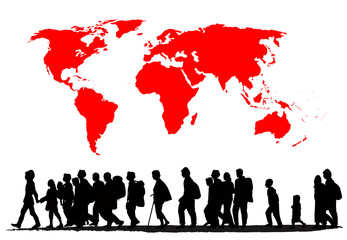 GENEVA — The number of people fleeing violence is the highest recorded since World War II, according to figures released Wednesday by the United Nations refugee agency, as old conflicts dragged on and new ones erupted.
The global population of people displaced by conflict reached 70.8 million last year, up from a little over 43 million a decade ago, the report said. Around 80 percent of the world's refugees have been living in exile for five years, and around one-fifth of them for 20 years, it noted, underscoring the intractable nature of the situation.
"We have become almost unable to make peace," Filippo Grandi, the United Nations high commissioner for refugees, told reporters in Geneva.
The report's total figure is conservative, Mr. Grandi said.
LEARN MORE
FLIGHT OF A NATION