"Debris on Cocos (Keeling) Islands was mostly bottles, cutlery, bags and straws, but also included 977,000 shoes, study says"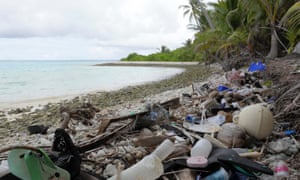 Plastic waste on the Cocos (Keeling) Islands is like the 'canary in the coal mine' in warning about the vast amount of litter in the oceans. Photograph: Jennifer Lavers
By
Ben Smee
On the beaches of the tiny Cocos (Keeling) Islands, population 600, marine scientists found 977,000 shoes and 373,000 toothbrushes.
A comprehensive survey of debris on the islands – among the most remote places on Earth, in the Indian Ocean – has found a staggering amount of rubbish washed ashore. This included 414m pieces of plastic, weighing 238 tonnes.
The study, published in the journal Nature, concluded the volume of debris points to the exponential increase of global plastic polluting the world's oceans and "highlights a worrying trend in the production and discharge of single-use products".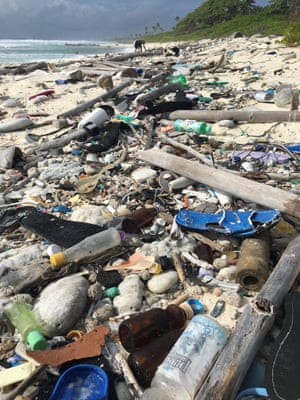 The lead author, Jennifer Lavers from the University of Tasmania's Institute of Marine and Antarctic Studies, said remote islands without large populations were the most effective indicator of the amount of plastic debris floating in the oceans.
"Islands such as these are like canaries in a coal mine and it's increasingly urgent that we act on the warnings they are giving us. Plastic pollution is now ubiquitous in our oceans, and remote islands are an ideal place to get an objective view of the volume of plastic debris now circling the globe," Lavers said.