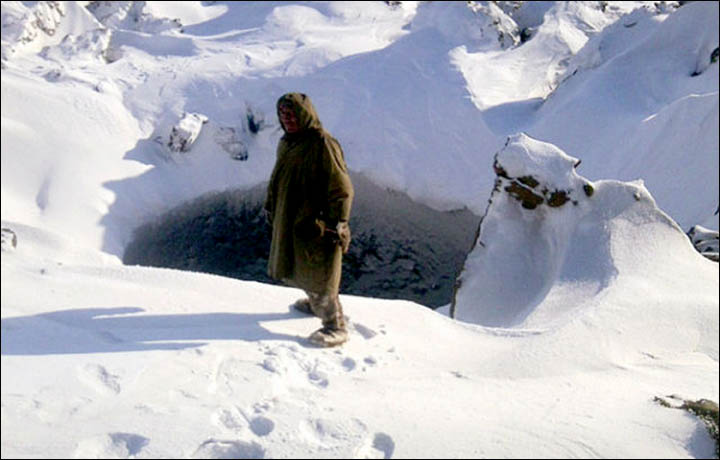 Trembling tundra - the latest weird phenomenon in Siberia's land of craters
Earth is moving as 'leaking methane gas due to global warming causes surface to bubble' in a new phenomenon.
This extraordinary sight - in a video filmed of the tundra on remote Belyy Island in the Kara Sea off the Yamal Peninsula coastline - was witnessed by a scientific research expedition. Researchers Alexander Sokolov and Dorothee Ehrich spotted 15 patches of trembling or bubbling grass-covered ground.
When punctured they emitted methane and carbon dioxide, according to measurements, although so far no details have been given. The reason is as yet unclear, but one possible explanation of the phenomenon is abnormal heat that caused permafrost to thaw, releasing gases.
Alexander Sokolov said that this summer is unusually hot on the Arctic island, a sign of which is polar bears moving from the frozen sea to the island.
WATCH VIRAL VIDEO

Amazing Methane Bubbles From Tundra
https://youtu.be/06Xc3LtZRWo
Sections of Great Barrier Reef suffering from 'complete ecosystem collapse'
Without enough surviving corals, the fish didn't have the shelter and food sources they needed and had died or moved elsewhere. Without many of those fish, Marshall said the coral would face a harder time recovering, since the entire ecosystem had been degraded.
How Extrajudicial Executions Became Policy in Washington
The US has been fighting wars for almost 15 years. As vets have returned from their tours of duty, numbers have gone into police work when weaponry, vehicles, and military equipment have poured off distant battlefields and into police departments. And while the police were militarizing, gun companies have been marketing battlefield-style assault rifles by the millions, at the very moment when citizens can carry weapons in public.
The Trojan Drone: An Illegal Military Strategy Disguised As Technological Advance
The technical advances embodied in drone technology distract us from a more fundamental change in military strategy. The US has now embraced extrajudicial executions on foreign soil.
More Warning Signs From China's Economy
"Following the release of Chinese economic and money/credit data last week, there has been much confusion in the investment industry over whether or not Chinese economic growth is finally picking up. Having carefully examined all the data, we do not find evidence of a meaningful pick-up in growth." – BCA Analytics
Another day, another warning about the state of China's economy.
This time, the warning comes from analysts at BCA Analytics who are extremely concerned about China's deteriorating capital spending. Specifically, BCA's research shows that the growth rate in private fixed asset investment, excluding infrastructure, dropped to an all-time low during the first half of 2016.
Fixed asset investment growth in the manufacturing sector has fallen to 0% (year-on-year) and is about to turn negative if you take the monthly readings. The six-month moving average for the same metric has dropped to a ten-year low. Also, the six-month average of fixed asset investment in the mining sector plunged to a low of -20% in the past few months (one of the lowest levels recorded), and investment in the service sector has been bouncing around a 10-year low for much of this year.
To an extent, China has been manipulating its investment figures via the government's fiscal/credit stimulus program. Under this program, authorities issued RMB 1.2 trillion of bonds between September 2015 and March 2016 to fund infrastructure projects, keeping infrastructure investment at very high levels. But this debt-funded building boom has only been able to take the edge off the deteriorating figures. China's aggregate fixed asset investment growth rate has fallen to 8% this year, the lowest since 2001.