Say It Ain't So...
"The startlingly high temperatures so far in 2016 have sent shockwaves around the climate science community," said David Carlson, director of the World Climate Research Programme.
The Guardian
Global warming taking place at an 'alarming rate', UN climate body warns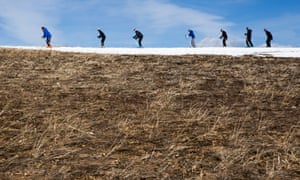 Skiers thread their way through patches of dry ground at California's Squaw Valley ski resort. Several Lake Tahoe-area ski resorts have closed due to low snowfall as California's historic drought continues. Photograph: Max Whittaker/Getty Images
The "alarming" and "unprecedented" rate of climate change is "sending a powerful message to world leaders", the World Meteorological Organisation (WMO) has warned.
Releasing its Status of the Global Climate report, the WMO – a United Nations body – detailed the string of climate and weather records that were broken in 2015, including global temperature records, exceptional rainfall, devastating droughts, unusual cyclone activity and intense heatwaves.
"The year 2015 will stand out in the historical record of the global climate in many ways," said WMO secretary-general Petteri Taalas in the report.
"The future is happening now," he said in a statement released alongside the report. "The alarming rate of change we are now witnessing in our climate as a result of greenhouse gas emission is unprecedented in modern records."
READ MORE
Global food production threatens to overwhelm efforts to combat climate change
Each year our terrestrial biosphere absorbs about a quarter of all the C02 that we produce.
Rouhani's Moment of Truth
Iran's president may have popular support, but the Islamic Revolutionary Guard Corps has guns. Whoever wins this fight will shape the country for years to come.
Turmoil in Eastern Saudi Arabia
The Saudi state is highly fragile with disparate cultures, distinct tribal identities and tensions between a Sunni majority and a Shi'ite minority, notably in the oil-rich east. It could divide into five smaller regions.
In First, Majority of Americans Now
Oppose Nuclear Energy
Gallup poll comes as new campaign counters nuclear's "clean energy myth"
A majority of Americans—54 percent—oppose nuclear energy, a Gallup poll released Friday found.
It marks the first time a majority in the country has felt this way about nuclear energy providing electricity since Gallup began asking the question in 1994.
Forty-four percent said they are still in support of it.
The new results show a major shift from responses last year, when just 43 percent expressed opposition to nuclear energy and support stood at 51 percent.
Republican support, in particular, dropped steeply from 2015. Fifty-three percent now say they are in favor of nuclear energy, compared to 68 percent last year. Thirty-four percent of Democrats are in favor of nuclear energy, an 8-point drop from last year.
Even in 2012, the first time Gallup asked the question after the Fukushima disaster, 57 percent of Americans were still in favor of nuclear energy.
As to why to tide has turned, Gallup suggests it may be the result of lower gas prices, as they have coincided with low levels of worry about the nation's energy situation.
READ MORE