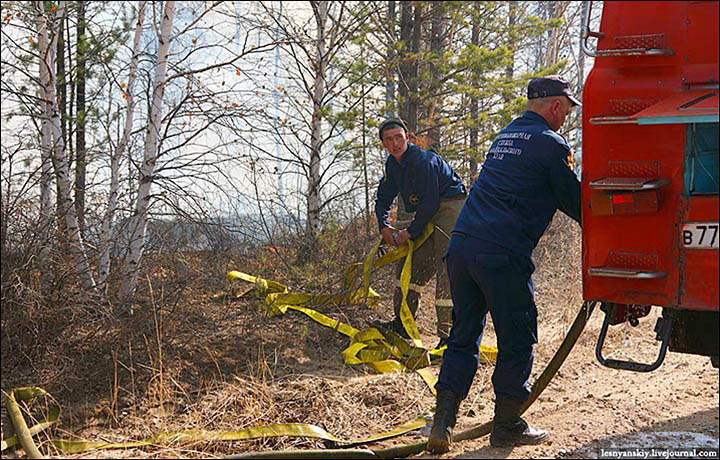 Forest fires arrive early as Siberia sees record high temperatures
6 April 2014 (The Siberian Times) – The past week saw record warm weather in western Siberian cities including Novosibirsk, Tomsk, Kemerovo, Barnaul, and Gorno-Altaisk.
Natural Resources Minister Sergei Donskoi warned a conference chaired by Prime Minister Dmitry Medvedev: 'The forest fire situation is tense in Russia this year. Due to a shortage of precipitation the forest fire season has begun almost one and a half months ahead of the norm.'
By 2 April, 17 forest fires had been registered across 2,000 hectares. Among the areas now at risk after a faster-than-usual snow melt are the south of Siberia to the territory of the Far Eastern Federal District, to Baikal and the Amur regions.
'It was the hottest April 1 on record for several western Siberian cities, including Novosibirsk, Tomsk, Kemerovo, Barnaul, and Gorno-Altaysk,' said Renad Yagudin, of the Novosibirsk meteorological service. 'The average temperature in Russia increased 0.4 degrees every ten years. Overall, the temperature in the area is 6.5-16.2 degrees Fahrenheit (2-9 Celsius) higher than the record set in 1989.'
Some parts of Russia have shown even more extreme warming. In the Arctic, south Chukotka and Kamchatka regions temperatures rose 150 to 200 per cent more than in the rest of the country, reported RIA Novosti.
In October last year, Norwegian and Russian scientists said that surface water in the Barents Sea was 5 degrees Celsius warmer than normal. They linked the peak-temperatures with the unusually warm summer in the northernmost parts of mainland Norway and on Russia's northern Kola Peninsula.
Read More