"The emerging story of helium suggests that we will NOT always find substitutes precisely when we need them in quantities we require at prices we can afford for such critical and rare materials"
Helium is a finite resource—who knew?
Almost precisely 10 years ago I wrote about the likelihood of a shortage of helium in the not-to-distant future in a piece entitled "Let's party 'til the helium's gone." Last week worries about a helium shortage appeared in my news feed. It seems that we are indeed going to party 'til the helium's gone as no steps that I know of have been taken to avert the inevitable shortage.
That the shortage comes as a surprise results from a certain scientific illiteracy about the makeup of the universe and the geology of the planet. More on that later.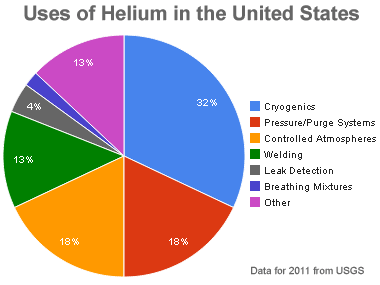 It also results from a peculiar type of economic thinking that is pervasive today that states that when shortages occur of any commodity, prices will rise to incentivize exploitation of previously uneconomical resources and
automatically
solve the problem. This intellectually lazy pronouncement does not consider whether the new supplies will be
affordable
. (As I pointed out
in another piece about helium
in 2013, "Things do not have to run out to become unavailable.")
LEARN MORE
RUNNING OUT OF HELIUM