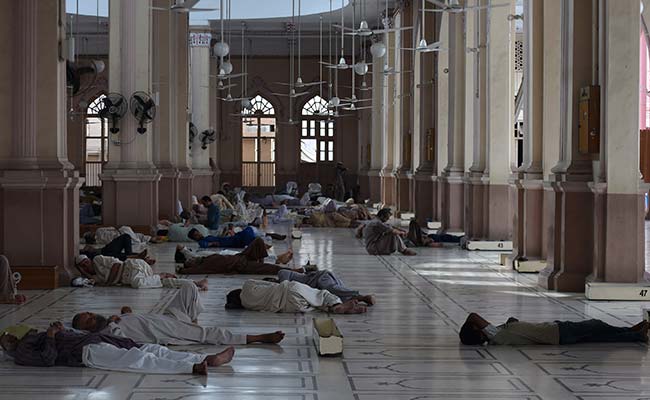 Two Middle East locations hit 129 degrees, hottest ever in Eastern Hemisphere, maybe the world
It's also possible that Mitribah's 129.2-degree reading matches the hottest ever reliably measured anywhere in the world. Both Mitribah and Basra's readings are likely the highest ever recorded outside of Death Valley, Calif.
Death Valley currently holds the record for the world's hottest temperature of 134.1 degrees (56.7 Celsius), set July 10, 1913. But Weather Underground's Burt does not believe it is a credible measurement: "[T]he record has been scrutinized perhaps more than any other in the United States," Burt wrote. "I don't have much more to add to the debate aside from my belief it is most likely not a valid reading when one looks at all the evidence."
Global warming hadn't paused at all. It was just getting ready to hit the accelerator.
It is the increasing rate of emissions that indicates we are entering an increasingly rapid-change era in which each increase adds fuel onto the next. Exponentially!
The Myth of "Aggressive Russia"
The US and allies have imposed sanctions because of the Crimea decided to separate from Ukraine and rejoin Russia. Tourist cruise ships no longer stop at Crimean ports and international airlines are prohibited from flying directly to the international airport at the Crimean capital, Simferopol. Students from Crimean universities cannot transfer their academic credits to universities internationally. Despite the sanctions Crimea appears to be doing reasonably well.
Scores of City-Sized Siberian Wildfires Spew 2,500 Mile-Long Plume of Smoke
Practically no one in the global mainstream media is talking about how Northern and Central Siberia is burning. Scores of massive fires, some the size of cities and small states, are throwing off a great pall of smoke 2,500 miles long.
US Releases Saudi Documents: 9/11 Coverup Exposed
fresh evidence of a deliberate cover up of the role played, not only by the Saudi government, but US intelligence agencies themselves, in facilitating the attacks and then covering up their real roots.
OSFI tells some banks to test for sharp drops in Vancouver, Toronto housing markets
Financial institution watchdog says the banks should stress test for 40-50% drop in housing prices
Some of Canada's banks must stress test their ability to withstand a 50 per cent drop in housing prices in Metro Vancouver area and a 40 per cent drop in the Greater Toronto Area, the country's banking regulator says.
The Office of the Superintendent of Financial Institutions also said Tuesday that the banks must all test for a 30 per cent downturn in valuations for all other areas of the country.
The OSFI said the test doesn't apply to the Big Six banks and HSBC. An OSFI spokesperson said the regulator and the Bank of Canada work together to conduct "regular macro" stress tests on the Big Six banks, which also do their own internal testing.
The stress-test guidelines based on housing market shocks are one of two changes that OSFI made in its periodic reporting requirement for Canada's deposit-taking institutions. In past years, the banks' core capital ratios were taken into account in the stress tests. However, this year OSFI said the test must also take into account a scenario where a bank's authorized leverage ratio may be breached.