A road less travelled...


"Avoiding all the risks outlined in the report will be impossible, said Holdren, as "climate change is already underway, and no matter what we do it cannot be stopped overnight."
Report: Health Impacts from Climate Change a 'New Kind of Threat' (with No Easy Cure)
If we want to safeguard the health of current and future generations, we have to address climate change.'
Climate change is a serious threat to public health, particularly for pregnant women, children, communities of color, and low-income people, a government report issued Monday has warned.
death from heat stroke, particularly in the summer months;

chronic and acute respiratory issues;

vector-borne illnesses like the West Nile virus and Lyme disease, as well as the new emergence of new pathogens;

chemical toxins in the food chain;

and mental health consequences of being exposed to climate disasters—among a litany of other risks.
Civilian Control of the US Military Has Become a Fantasy with terminal dangers for the future of democracy
Traditionally civilian control of the military reside with elected civil officials. Today the military sets its own standards, makes and produces its own news, and appropriates policy and policymaking for its own ends, whatever civilian leadership may think or want. It is a massive, self-propelled institution no longer under civilian control
America's Post-Democratic Military
Increasingly divorced from the people, with a way of life ever more foreign to most Americans, it's regularly put to purposes foreign to any traditional idea of national defence. In Washington, it has become a force unto itself, pursuing its own agendas, increasingly unaccountable to either the president or Congress.
Israel's next steps in the West Bank
Israel's voracious settlement enterprise in the past half century has transferred more than one half million Israelis to the West Bank and East Jerusalem, while the random attacks of recent months attest to the absence of direction and leadership that is the disheartening legacy of the PLO's tottering experiment in limited self-rule.
Tesla Model 3 Electric Car Orders Accelerate to 276,000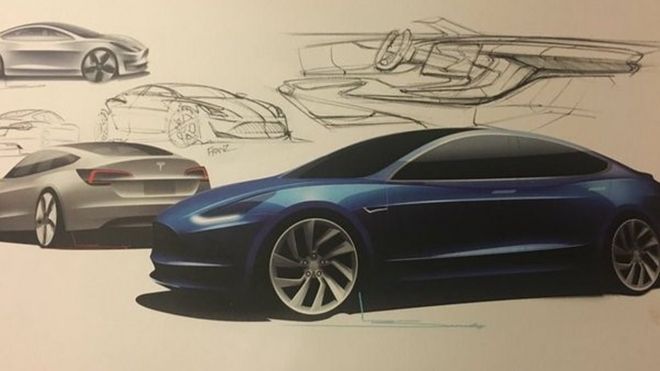 Tesla founder and chief executive Elon Musk says pre-orders of the firm's much-anticipated Model 3 electric car currently total 276,000.
The California-based firm unveiled the five-seater car - its lowest-cost vehicle to date - on Thursday.
Mr Musk tweeted the total reflected the orders received by the end of Saturday.
Pre-orders of the Model 3 will not necessarily all translate into actual sales when the car is released, with first deliveries in late 2017.
It can be ordered in advance in dozens of countries, including the UK, Republic of Ireland, Brazil, India, China and New Zealand.
Potential car owners need to put down $1,000 deposits to reserve their vehicles.
Such has been the interest that Mr Musk tweeted the company was "definitely going to need to rethink production planning".